Lassi as a resort has developed due to its amazing beaches of golden sand. The two main beaches are Makris Yialos (Greek for 'long sandy beach') and Platis Yialos (wide sandy beach). The beach shelves gently into beautifully clear and clean waters providing a safe haven for children. The beaches are accessed at various points by steps or slopes and these are well sign-posted from the lanes that run parallel to the main road which runs from Lassi into Argostoli.
On the beaches of Lassi the area is divided up into different territories according to the operator's licence to offer catering facilities, rent out beach equipment or operate water-sports. Parts of the sandy beach are 'free seating' where you can take your beach-mat and own sun-shade. Other areas have been set up with sun-beds and beach umbrellas in place and in orderly lines. The largest of these is in the centre of Makris Yialos beach and has a snack bar
with red, yellow and blue beach-umbrellas in front.
Alternatively you can rent your beach equipment from a vendor and set it up to your own liking. The beaches here are usually quite busy from June to September.


About Kefalonia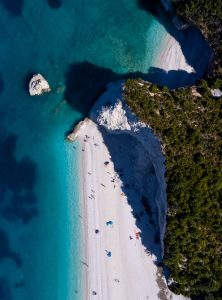 Kefalonia itself is the largest Ionian island, the landscape is famous for its lush mountains and beautiful sandy beaches.
Rainfall in winter months ensures a green and rich land, cultivation of olives, olive oil and grapes for the Robola wines, a grape found only in Kefaloina. A visit to the winery is a must…
Mount Ainos, sits high and stretches from the center to the South of the island,  and is covered with black pine trees (Pinus nigra), and Greek fir trees (Abies Cephalloinca), also the home to  wild ponies which roam freely.
Kefalonia, the largest of the Ionian Islands of Greece at 780 km2, is famed for its landscape combining lush mountain scenery with picturesque sandy beaches. High winter rainfall and fertil soil mean that all of the Ionian Islands are beautifully green, with olive trees, grapes and many more fruits and vegetables growing in abundance. Mount Ainos dominates the view, stretching across the south part of the island, covered with black pine (Pinus nigra) and Greek fir (Abies cephallonica) trees and home to famed wild horse
History
According to Greek mythology, Kefalonia was named for Cephalus, who was awarded the island after he fought with Amphitryon of Mycenae in a war against the Taphians and Teleboans. It has further been suggested that Kefalonia may be the true Homeric Ithaca and therefore the home of Odysseus.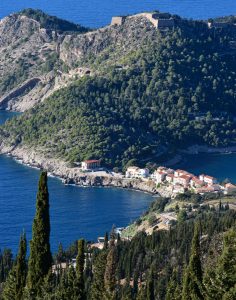 More recently, in the Northern tip of the island , Fiscardo  named the "Jewelof the Ionion" , a Roman grave complex has been excavated in Fiskardo, including a vaulted tomb and stone coffin, , clay pots, gold jewellery and bronze artefacts. Archaeological sites can be found all over the island, ranging from Palaeolithic (40,000 years ago) to Venetian (17th Century) periods. It is particularly important for artefacts of the Mycenaean era, such as a Tholos tomb dating from 1300 BC found in Tzanata near Poros. Much of Kefalonia's rich and diverse history can be explored in the highly regarded Archealogical and Folklore Museums in Argostoli.
Kefalonia also boasts an intriguing character .  The original 16th Century monastery of Agios Gerasimos, the patron saint of the island, succumbed to the 1953 earthquake, however a Byzantine church has been built nearby and houses the festivals associated with the saint.
The legendary Drogarati Caves, some 60 metres below ground level, were discovered 300 years ago. It is possible to visit the caves for a small fee and with the temperature relatively constant at 18¡C, it offers the perfect chance to view some ancient stalactites and stalagmites. Drogarati is renowned for its excellent acoustic qualities, with many concerts and other shows being held there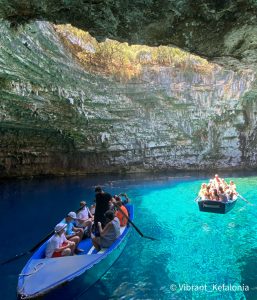 First explored in 1951, Melissani Lake, or Lake of the Nymphs, is an underground mix of sea and fresh water approximately 500m inland. The cavern shows evidence of a significant cave-in several thousand years ago, which allowed sunlight to flood in, giving a striking blue hue to the crystal clear water. A boat trip on this beautiful geological wonder is a must during your time in Kefalonia.
Kefalonia has excellent transport links, with domestic flights available to Athens as well as international flights across Europe, an island hopper aircraft provides access to surrounding islands for visits. Ferries are also available to other Greek islands, the mainland and to Italy.